Tomorrow is a sad day. It's the end of my maternity leave. Boo! But, I've been really thankful to have so much time to adjust to being the mom of two children, now. What a blessing! And the other blessing is that I won't be returning to full-time employment, either. I'm cutting back to part-time. Yay! I'm excited about the changes in my routine, and anxious to find out what this "new" life is going to be like.
I've had so many, many things on my "to-do" list, while I've been on maternity leave. While I've been able to slowly check
some
of them off, there still remain many things that need to be done. However, I accomplished one of my fun goals, this past weekend.
We live in a small house, so functionality and space are at a premium. And our kids will eventually be sharing a room, so we're having to get creative with toy, book, and clothing storage for them. My husband and I both have mentioned that we need to find a small-ish bookshelf unit that can sit between the toddler bed and the crib, which can also hold a lamp and monitor. With my cutting back to part-time, we're trying to be as frugal as possible, and not spend extra money on things we don't
need
. So, I went shopping in our garage.
We've had this old, laminate, pressboard microwave cart sitting in our garage for the longest time. It's seriously nothing fancy--just your standard Big Lots or Wal-Mart variety, low-end, laminate pressboard-style microwave cart. And, I thought... there's our bookcase for the kids' room!! Now, I've read a lot of blogs that talk about how you can paint laminate furniture, and have it come out looking great, but I didn't want to spend the money on some of the more expensive primers they mentioned. I'm sure they're worth it, but I really wanted to keep this project CHEAP—as in FREE. :) So, I had the cart, some Sherwin Williams wall primer, some sample paint I received from Glidden about a year or two ago in "Deepest Aqua," and some protective clear-coat finish that I had used on another project. I didn't end up spending a dime on this project. And (you'll have to forgive me), in my zeal to begin, I neglected to take a "before" picture. Sad day! However, here's a standard image that looks just like our cart did: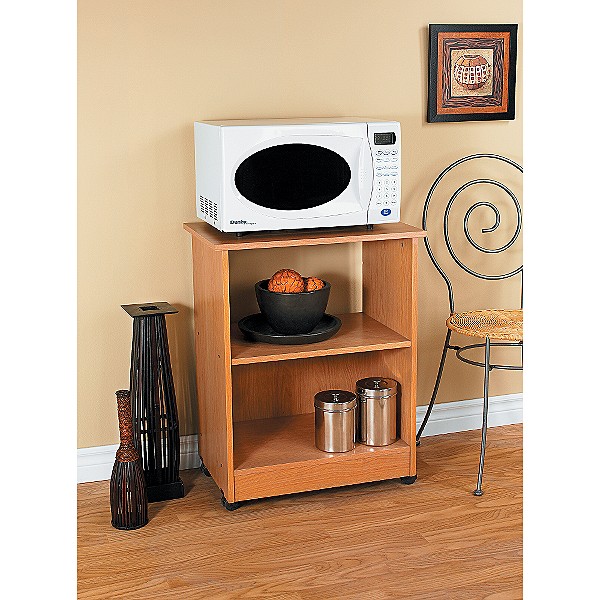 And here's the paint color from Glidden:
Fancy cart, huh? Yeah... no. But, I had vision. I went ahead and primed it well. A couple of coats did the trick. And, I'm here to tell you that wall primer did indeed work on my little laminate pressboard piece of furniture. Just don't scrape it up before you put the final clear-coat on. Anyway, I primed it, then painted it with two coats of "Deepest Aqua." After everything had dried well, I did a final clear-coat finish to keep everything from getting scraped up and scuffed--especially since we would be using the cart for books in a children's room. And viola...
Isn't it so cute? I also took the wheels off, since it's not something we need to wheel around, and I didn't want our little ones being able to roll it away from the wall. And, as you can see, it's already getting good use.
I absolutely LOVE this project!!! With the clear-coat, it turned out to be super durable, and I LOVE the color in our kids' room. It's really fun, and my toddler sat in front of it most of the day today, pulling books off, "reading" them, and then putting them back. The moral of the story is that you
CAN
paint laminate, pressboard furniture, and it doesn't have to be very expensive. I already had everything I needed for this project, and the paint never cost me a cent, so this little transformation was completely FREE! Yay!
I'm sharing this project at...