I can hardly contain my excitement! If you haven't noticed, things are looking a little different around here. Doesn't it look fabulous? I have a bit of "spring/summer cleaning" to do, but I'm just so thrilled with the new design.
A HUGE thanks goes out to Courtney @ Not So Homemade, for the new design!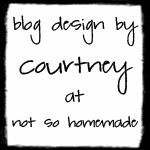 Be sure to stop by her site, and compliment her on her work. Tell her that Leslie @ Bargain Shopping Paradise recommended that you stop by!